Introducing the BOOM Safety Training Game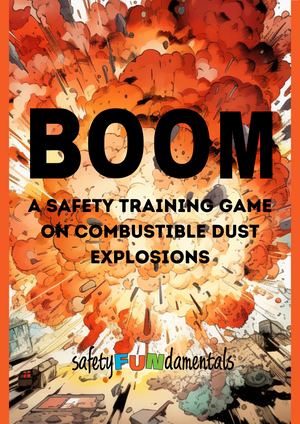 Many industries experience hazards from combustible dust including food, plastic, wood, rubber, furniture, textiles, pesticides, pharmaceuticals, dyes, coal, metals, additive manufacturing, 3D printing, and fossil fuel power generation. When providing training on combustible dust, trainees learn about the five elements of a dust explosion and collecting these five elements are the basis of a new game - BOOM. 
In this downloadable packet, teams of trainees take turns answering questions related to combustible dust explosions. Every time they answer correctly, they get to award one of five BOOM cards to another team. The five BOOM cards each represent one side of the dust explosion pentagon, so when a team has been given all 5, BOOM - and they are out.  This game is based on game mechanics and is a type of sneaky quizzing. Trainees are reviewing important safety content while having fun. 
Click here to purchase and download the BOOM game packet.
Note: VIP Subscribers of The Safety Training Net received this (and many other great safety training resources for free).  To become a VIP, click here.
Leave a comment
Comments will be approved before showing up.
---
Also in Safety Dance - the Official Blog of SafetyFUNdamentals