Finding Stories for Storytelling in Safety Training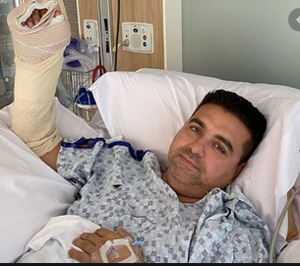 Many safety trainers know the importance of using stories in safety training but one question that often comes up is where to find stories. One way to find stories is to pay attention to the news and if there is a story about an accident that helps illustrate the training topic, it might be a good one to use. The following story is all over the news here in my hometown of NJ because if you are familiar with the Cake Boss Buddy Valastro, you know he is from this area. This is a really a bazaar accident but no doubt one that safety professionals will be able to analyze and in it find some "lessons learned" to share with trainees if appropriate.
As some people know, I had a traumatic hand injury myself in 2013 which resulted in 18 months of occupational therapy - similar to what Buddy is facing. My injury was the result of a truly freak accident so it's not particularly useful for sharing with others as "what not to do." Stories should not be shared in a safety training class if they are not relevant and will not help the trainees to better understand a point you are trying to make or help emphasize a lesson you want to teach. Although all of the details of Buddy's story are not in the articles I have seen, it is not hard to imagine how a similar accident could occur while performing certain workplace tasks unless the proper controls are in place. When sharing the accident with a group of trainees, you could ask "Where could a similar accident occur in our facility?" or "How do you think this accident could have been prevented?" or "What could be implemented to stop a similar accident from happening in the future?" Anything you can do to help tie this accident to the actual workplace will be valuable in helping the trainees remember the class content and hopefully, apply their new knowledge back on the job.
Best wishes to Buddy for a speedy recovery!
Leave a comment
Comments will be approved before showing up.
---
Also in Safety Dance - the Official Blog of SafetyFUNdamentals