In Honor of Women In Construction Week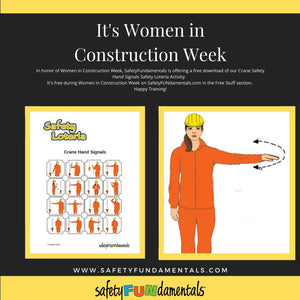 The National Association of Women in Construction (NAWIC) created Women in Construction (WIC) Week to highlight women as an important part of the construction industry and to raise awareness of the opportunities available for women there.  According to CNBC, women make up a little over 9% of the construction industry. If you ever walk around a construction site or sit in on a construction safety training class, you are unlikely to see any signs or training materials where  women are included. 
After a image was shared in the American Society of Safety Professional's Women in Safety Excellence group of a scantily clad woman used as part of a crane safety hand signals poster, I decided to redo the image to look like what a real woman demonstrating crane safety hand signals might look like. 
I then created a series of these images and used them in a Safety Lotería game. (If you are unfamiliar with Safety Lotería, click here.) 
In honor of Women in Construction Week, I have uploaded the Crane Safety Hand Signals Safety Lotería to the Free Stuff section of the SafetyFUNdamentals website. It won't be there for long though so click on over now to download a free copy. 
Finally, I'd like to thank all the women who are brave enough to work in construction in order to do what they love, support themselves and their families  and provide real-life examples to the younger generation who may be more interested and willing to pursue a career in construction because they can see others that look like them already doing it successfully.
Happy Women in Construction Week!
Leave a comment
Comments will be approved before showing up.
---
Also in Safety Dance - the Official Blog of SafetyFUNdamentals