It's Dr. Seuss Day!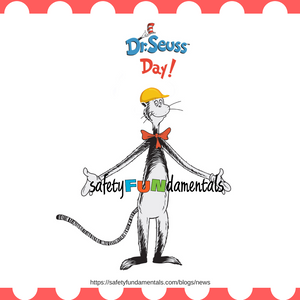 Dr. Seuss was very effective at making learning fun so it's only right to give him a shout out on what would have been his 116th Birthday.  Theodor Seuss Geisel (Dr. Seuss) used amazing creativity to make up words and characters to get children' attention and provide encouragement to learn to read. By making learning fun and interesting, he was able to increase participation and retention - sound familiar?  SafetyFUNdamentals strives to  do the same things and if you are reading this post, you probably are too!
Although I did not write the following poem, it is in "Dr. Seuss Style." I hope you enjoy it!
Sitting through workplace safety training can be hard.
It can be boring.
It can leave your trainees snoring.
Instead of boring snoring difficulties, there is a better way.
A much better way to learn today.
It's a way that lets you get training done by the ton.
So you can send boredom out on the run.
And have everyone learn workplace safety training
with more fun!

More information is retained when learning is
self-directed.
When it is autonomous, better results can
be expected.
Trainers can let their need to lecture begin to slide.
When fun and games can be their training guide.
Games allow for the making of better decisions.
Activities allow for the chance to make contributions.
And this is what creates effective workplace safety training solutions!

There are a variety of different games and activities you can use.
Set loose the power of your training with some extra juice.
Through each game or activity, you're able to show viable practicality.
Allowing your training to be fun instead of just another workplace formality.
The vitality of each worker and their safety depends on what they know.
So give your people the ability to let their workplace safety skills grow!
Leave a comment
Comments will be approved before showing up.
---
Also in Safety Dance - the Official Blog of SafetyFUNdamentals